Microphone Geeks has reviewed over a hundred different mics, and the majority of them fall into a shotgun category. There are dozens and dozens of options to work with, all of which are perfectly viable but we have decided to narrow it down to the best options in the context of budget filmmaking and video production. All of the mics listed are short shotguns that come with standard XLR or 3.5mm interface. The mics are perfect for booming as well as mounting on top of the camera. Whatever your budget is, you will find them totally worth the money. You don't have to buy a $3,000 Schoeps just to find out it doesn't work well in high humidity. The mics listed below is all you need to achieve a professional sound.
    ↳ recent price: —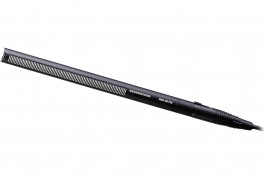 Pros
Fantastic, very clean quality of sound
Well deserves the price tag
Industry standard
Cons
Sennheiser MKH416 is the best shotgun you can buy for a reasonable price, unless you can afford CMIT5U – there really aren't any better options, so don't even bother. Yes, there are newer models on the market from both Sennheiser and other brands. We have spent a lot of time researching this matter yet still… MKH416 remains the most versatile for not only booming and camera-top applications but also for voiceovers. It offers a production-ready sound with a reasonably rich and perfectly natural tone out of the box. The self-noise if unmatched for this price and the overall sound quality is exceptional. At the same time, the mic is relatively compact, it is easy to work with and it's not afraid of the moisture.
    ↳ recent price: —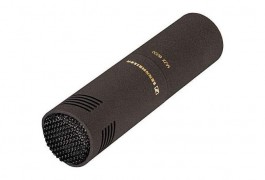 Pros
Amazing sound quality & tonal accuracy
Rich low end and linear response
Very clean audio, low self-noise
Cons
More susceptible to vibrations
Sennheiser MKH 8050 is a special mic that works best for interiors. In fact, it isn't really a shotgun but a supercardioid. They always come surprised when you swap your shotgun for a supercardioid/ hypercardioid indoors, but the sound engineers know those mics usually beat shotguns when it comes to miking interiors. Particularly, they are often used for recording dialogues. The advantage over shotguns is they are less sensitive to reflections from hard surfaces, which helps reducing unnecessary echo, reverb and comb filtering, as well as producing a more natural tone. MKH 8050 isn't cheap at all but it gives you unmatched quality, and will beat even the most expensive shotguns when miking indoors.
    ↳ recent price: —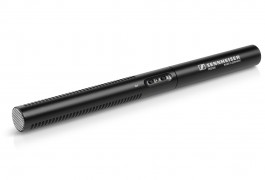 Pros
Fantastic sound quality
Transparent, natural tone, low noise
Good for any situation
Cons
Sennheiser MKE 600 is a budget shotgun with a pre-polarized capsule of a very good quality. This price range is not without competition, yet we chose Sennheiser mic once again as it gave us best value for money. You will find only essential features, such as an AA battery, on-off switch and a roll-off filter. But that's more than enough to get your video production going, especially if you are just starting and aren't ready to spend big. The sound once again exceeds expectations because you don't pay for any unnecessary bells and whistles that are nowadays hard to avoid. Sure enough, there are also mics in between, but probably not worth the extra money, the MKH416 is the only significant upgrade to this.
    ↳ recent price: —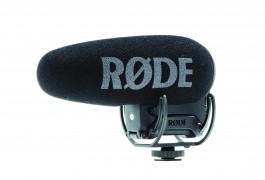 Pros
Lots and lots of features
High gain, high quality sound
Highly directional pickup pattern
Cons
Not neutral, bright response
Rode Videomic Pro+ is a compact, feature-heavy on-camera mic with a 3.5mm output. Sure enough, 3.5mm isn't as good interface as XLR because it doesn't provide a balanced circuit. However, that's what they use on consumer cameras, and it has its own advantage, namely the smaller footprint. Anyhow, Rode Videomic Pro+ is the best 3.5mm shotgun, because it's comparable to full size XLR shotguns in terms directionality (even though it is a lot more compact), and the features of course are only a bonus. Videomic Pro+ may sound slightly colored but the high directionality more than makes up for that, and the rest of the specs are top notch, so I'd use it any time over the similar mics.
    ↳ recent price: —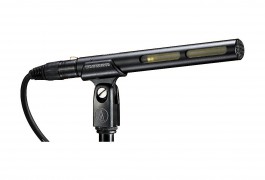 Pros
Fantastic price
Excellent quality for the buck
Sturdy, compact build
Cons
Audio-Technica 875R is an old, bloody cheap, compact XLR shotgun that never disappoints. You want a cheap and angry shotgun – you got it. And if you think you can't possibly get a decent shotgun that cheap, well you are wrong, because Audio-Technica 875R is ready to prove you wrong. This mic doesn't really have any cons. Sure enough; if I have MKH416, I will use MKH416. But if I don't have anything better I will use 875R because it is a decent XLR mic that is always work-ready. And it still offers a tremendous improvement over any built-in camera mics, especially when booming. This mic is quite short, only 7 inch in length but it has a good side rejection nonetheless.
    ↳ recent price: —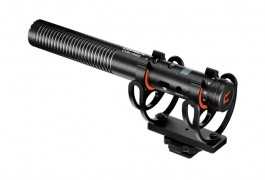 Pros
Natural sound
Phone-compatible
Great value for money
Cons
Comica VM20 is another 3.5mm dslr mic that happened to be the cheapest! However, you should keep your expectations in check because it's more of a selfie mic. You do not want to use it for anything even remotely professional, but if you happen to do your video production on a smartphone… then you may as well use it! Even though it is China-made, this build is quite durable, all parts are metal, the looks and feel are solid. Sure enough, the specs are inferior, particularly in regards of
self-noise
and
side rejection
. Self-noise isn't a problem when filming outside, the side rejection you can't really improve. But aside from that, it is fine and you'll find it handy. Plug it straight to your phone and recharge via USB.
⦁ Need more options? click here to see the full list of our shotgun reviews
⦁ Already familiar with these mics? Please share your experience & opinion in the comments below!