Maonocaster E2 is a consumer audio interface that offers various real-time effects, high dB gain and a multitude of inputs. It is a viable tool for streamers who want to have fun and entertainment, likewise it can be used for conference calls and other non-professional applications. The effects include sound bank, reverb, pitch shift, auto-tune and denoise. E2 can easily mix together XLR, line-in or even Bluetooth inputs and has a high compatibility with other devices. It also has a built-in battery so it does not drain the power of the USB device it is connected to. Maonocaster E2 is fun, easy to use and very affordable considering the amount of features. However, the overall quality is not meant for professional audio.
Features & specs overview
Maonocaster E2 audio interface features the following effects:
Sound bank

: allows recording and playback of sound samples.

Reverb

: applies real-time reverberation effect with different presets and customization options.

EQ

: basic 3 band equalizer, which can be used for applying low-cut and presence boost for your mic.

Auto-tune

: adds synthetic tones to your voice from a selected note scale, it is not very stable but could still be useful.

Pitch shift

: another toy feature that will make you sound like an alien or a chipmunk.

Denoise

: a useful feature for reducing background noise, but ineffective when it comes to the preamp's self-noise.

Levels

: a visual display of the sound levels, poorly implemented and does not relay any useful information.
Additional features and specifications that sums it all up:
Battery

: has a built in battery and does not draw power from the USB device it is connected to, can also output via 3.5 mm.

Requires another cord for charging and powering up

.

Input/output

: plenty of input and output options, 2x 3.5mm headphone jacks, 2x 3.5mm live output and 1x 3.5mm speaker output. 1x XLR / Line input, 1x additional 1/4 inch instrument input, 1x 3.5mm aux-in, 1x 3.5mm mic input and a Bluetooth input.

The inputs are mixed together and cannot be separated during recording

.

Gain

: the device can supply phantom power for condenser mics. It has a 3-stage gain, allowing for up to 60 dB amplification, sufficient for any known mic. However,

the gain is not the cleanest

; when you are not speaking, you can hear the preamp noise that

adds quite a bit of hiss

.
My experience with features
I have given a general and concise overview of the Maonocaster E2 in the inroduction, and further iterated over the facts about features and specs in the second paragraph, so by now you should have a pretty good idea about the product. In this section, I will share my final remarks and subjective experience of using it, once again by iterating and expanding on the above mentioned features:
The sound bank has a space for 3 longer tracks that can be looped and 8 shorter tracks. It's nice to have some good samples ready to throw in for entertainment. However, the implementation is not ideal. It takes practice to record a well-timed sample. I have to hold the button for one second with one hand, and simultaneously use my other hand to click playback on my computer. It may take several tries especially if it's in the middle of a video. You can't edit or crop it once it's recorded; though you can still control the playback volume. All in all, this isn't something I would want to be doing on a daily basis, but if you aren't planning to shuffle your samples too often – then it's totally fine.
I personally like the reverb effects on E2, I always found the reverb filters in my DAW a bit too complicated. With Maonocaster I don't have such problem, it's very easy to apply and at the same time it offers a good degree of customization, including different presets, depth and decay time. If you are recording a YouTube video, or something else using DAW you definitely do not need the reverb; nevertheless, I believe it's a nice and interesting effect to throw in occasionally while streaming.
The Equalizer may seem underwhelming at first and it's true that it doesn't offer a lot of flexibility. If you hold the mic upside down, don't expect you could fix that too with EQ. The band separation is rather wide and isn't too aggressive. However, it's just not meant for mixing the musical compositions. In my opinion it serves a specific purpose, which is adjusting the mic's presence and applying a low cut… it does that just fine and with a good degree of customization, compared to an on-off switch – so for me it's a win.
The Auto-Tune is more of a toy feature, it is not very stable and I found it fluctuating a lot on a low timbre voice. It seems to work much better with a higher pitch. I would occasionally use it just for fun, and find it satisfying when getting the notes right. It's still far from perfect but at least Maono have put a lot of thought into the note scales, allowing you to choose from any major and minor scale. I can also see it being used for instrument tuning and warming up for singers but do not expect too much from it.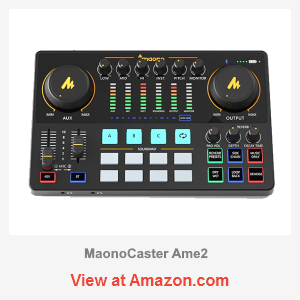 The Pitch shift is another entertainment feature that never gets old, it's fun and can dramatically change your voice. There are about 10 different pitches you can dial with the knob, it's not linear but applied in steps. Not meant to be used for music or singing… Still a win, because I love the chipmunks voice, and the low pitch darth vader too.
The Denoise feature works great for things like ceiling fan, air-conditioning and other background noise. However, you can't adjust the threshold, which is a minus. When the noise is just about on the threshold of activation it may trigger on and off repeatedly, which I personally find annoying. Still, while reducing some external noise, the preamp of E2 may introduce the noise itself when high gain is applied. I only use this feature when necessary.
The levels display is a fail. Although there are many segments, the way it is implemented is just bad. It does not convey any useful information. The scale appears to be linear as opposed to logarithmic and only targets roughly the last 30 dB, so you won't even know that something is connected unless it captures a strong signal. Moreover, the red LED triggers every time when you are close to 0 dB, but it does not indicate clipping. There is no way to tell if the signal is just loud or if it's actually clipping.
Remarks on preamp
As mentioned earlier, Maonocaster E2 provides plenty of gain. This is great so you can plug in any type of mic, including the SM7B and expect it to work. However, the preamp is just not the cleanest. It is not meant for professional audio. I found it to introduce quite a bit of hiss, whereas my SSL2+ was completely quiet with matching levels of gain. A solid audio equipment should always be wrapped in a thick layer of metal to shield from EMI on audio frequencies. E2 on the other hand is just plastic and feels very light, which could be one of the reasons too. Even when connecting Maono PD400X (a hybrid USB/XLR microphone from the same manufacturer), I found the mic sounds cleaner when plugged directly into computer via its own USB interface, compared to when connected via XLR cable to Maonocaster.
Thus, if you want a clean audio rather than abundance of features look elsewhere, and ideally at a higher price range. However, if your focus is streaming on Twitch or doing Zoom calls, and you're looking to spice the things up with a number of realtime sound effects, we can definitely recommend Maonocaster E2. For these applications the drawback in audio quality is negligible, and yet nothing offers as many features for such an affordable price. Though if you are really worried about the noise floor with your setup, there is a solution for you to consider. It's called the Cloudlifter, a portable, ultra-clean audio preamp made in USA specifically for this purpose.
- Reviewed at $120.99
Pros

Highly affordable

Abundance of realtime sound effects

Good connectivity, includes mobile devices

Autonomously powered by an internal battery

Lots of inputs and outputs, including Bluetooth

High gain with 3 stages of up to 60 dB

Makes your streaming fun and entertaining

Cons

The audio levels display is poorly implemented

Requires an additional USB cord for charging or powering up

Both inputs are inseparably mixed during recording

The internal preamp may introduce quite a bit of hiss
Review score
Very good! -

8.2/10