Headworn mics provide unrestricted freedom of motion while cancelling a great bit of noise due to their close proximity to the mouth of the talent. They are invaluable for live shows and stage performance that involves moving around, dancing or even gesticulating. Being partly concealed they are less distracting for the audience. With both hands free, speakers also find it easier to hold audience's attention.
In order to use headworns it is necessary to have a wireless receiver and transmitter. Those mics plug directly into transmitter also known as bodypack. However, different wireless manufacturers use different plugs that are not compatible. In this review, we will refer to four most popular plug types, which are listed in the table below. Do compare with your transmitter to make sure it will match.
TA4F (TQG)
TA3F (mini XLR)
3.5mm locking
4-pin locking (UniPak)
Shure, Carvin,
JTS, Trantec
AKG, Audix, Gemini,
Airwave, Samson
Sennheiser
Audio Technica
1. Countryman E6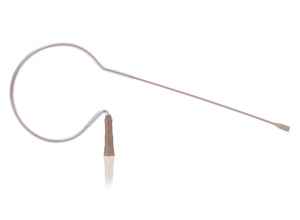 Pros
Pristine sound quality
Comfortable & lightweight
Unmatched durability
Replaceable cable
Cons
This mic can be considered the industry's quality standard and it is by far the best headworn we've reviewed. Not only does it blow you away with its pristine sound quality, which is something that goes without saying, but it is also quite very durable so don't be surprised when it outlasts other models! It uses a detachable cable, for which replacements are easily available, although breaking that aramid-reinforced cable may prove to be a challenge. Simple as it is, Countryman E6 is very lightweight and comfortable to wear. Sometimes I even forget that I'm wearing anything. While the rear part is kind of springy, the boom is more adjustable. Once done with adjustments, it will maintain that position and stay on your ear securely.
| best price on | TA4F | TA3F | 3.5mm | 4-pin |
| --- | --- | --- | --- | --- |
| | --- | --- | --- | --- |
2. Shure MX153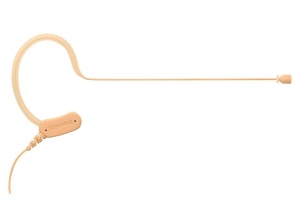 Pros
Consistent performance
High quality sound
Decent durability
Pleasant design
Cons
Shure MX153 is another awesome single-ear mic, which costs less yet provides a nice combination of superior sound quality, decent durability and pleasant, comfortable design. It boasts to have a solid, flat frequency response and since it's omnidirectional, it is not affected by proximity. Actually, all of those mics except #6 are omni as well, so there is no proximity issue. MX153 will give you a consistent performance in any situation for both speech and vocals and thus I can't recommend it enough. Design is another forte of this model – it is well thought out, comfortable and aesthetically pleasing. Despite the fact that it has a non-detachable wire, the rubber portion protects it from snapping at the base.
| best price on | TA4F | TA3F | 3.5mm | 4-pin |
| --- | --- | --- | --- | --- |
| | --- | X | X | X |
3. Audio Technica Microset Omni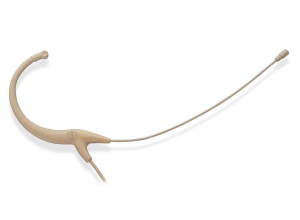 Pros
Amazing sound quality
Very crispy response
Ergonomic design
Lightweight
Cons
Requires delicate handling
This headworn mic from Audio Technica is also among the best in terms of the sound. It has a very crisp, extended response with a slightly elevated brilliance, which works well for lavs and head mics alike. It has an ergonomic design that rests comfortably on your ear. You may also attach the included neck support so that it connects to both ears and stays more secured in place. It is also quite lightweight (only 2.6g) but is not very durable. There are two vulnerable points where the boom and the wire connect to the body. If you can handle it delicately without readjusting every time, then it shouldn't be a problem! However, if you trust it to someone who has little clue like untrained personnel, eventually they will kill it.
| best price on | TA4F | TA3F | 3.5mm | 4-pin |
| --- | --- | --- | --- | --- |
| | X | X | X | --- |
4. Airwave HSD Slimline SE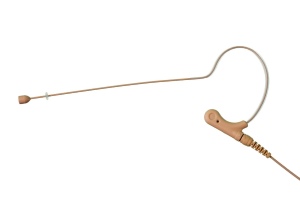 Pros
Smooth balanced sound
Great quality for the buck
Replaceable wire
Relatively durable
Cons
Slimline SE is a budget model and among others, it brings a great quality for the buck. It is also different in respect that it uses a dynamic capsule. While condensers may sometimes sound harsh in the upper register, this mic will not have this problem. Overall, the sound is quite balanced and although it may not be as good as MX153 it seems to get pretty close. If you don't want to spend multiple amounts for premium gear then you should really give it a try and you won't be sorry. Slimline's design has nothing fancy about it, though a replaceable wire certainly earns it some credit. The boom and over-the-ear thing are easy to adjust, although awkward movements can potentially cause slipping.
| best price on | TA4F | TA3F | 3.5mm | 4-pin |
| --- | --- | --- | --- | --- |
| | --- | --- | --- | --- |
5. Apex 575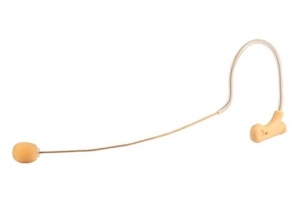 Pros
Good clarity
Crispy response
Interchangeable plugs
Detachable wire
Cons
This mic's unique feature is that in addition to a detachable wire it comes with four most common interchangeable plugs. I find it very convenient especially if you intend using it with different brands of bodypacks, whereas other mics do not offer this possibility. Although it uses the same body design as Airwave, it is a completely different mic this time with condenser capsule. Apex 575 has a brighter tone and a slightly higher sensitivity so it feels more emphatic. Good clarity and crispy response also make it into the list of its advantages. The over-the-ear part is springier and it stays in place better. Finally, Apex comes with an attachable neck headband, which is another pleasant addition.
| best price on | TA4F | TA3F | 3.5mm | 4-pin |
| --- | --- | --- | --- | --- |
| | --- | ✔ | ✔ | ✔ |
6. Shure SM31FH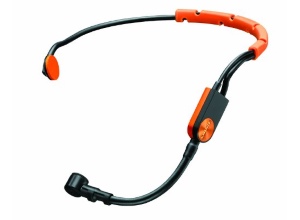 Pros
Comfortable
Decent quality
Works in tough conditions
Inexpensive
Cons
Shure SM31FH is a unique headworn made for fitness and sports instructors. Even though it looks huge compared to the rest, it is still quite lightweight and that rubber finish actually gives it a nice feel. This design provides maximum fixation and I assure you, it will not slip even if you stand on your head. It is also very easy to take on and off – overall, it's quite comfortable. Aside from peculiar design, SM31FH features directional capsule with a cardioid pattern, which helps both rejecting a fair amount of extraneous sounds and improving feedback resistance. The sound quality is quite decent though you wouldn't want to use it for signing. If you are into sports and workouts then this mic is for you.
| best price on | TA4F | TA3F | 3.5mm | 4-pin |
| --- | --- | --- | --- | --- |
| | --- | X | X | X |
7. Av-Jefes Avl630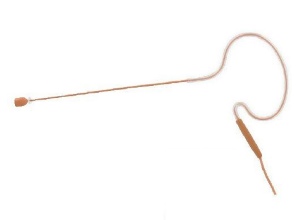 Pros
Professional sound
Comfortable
Lightweight
Affordable
Cons
Avl630 is another budget headworn that boasts quite a professional sound. It may be a less recognized brand and yet the performance is as good as twice more expensive units! Notably, it features a stable frequency response with some added brightness to the upper range, which sounds pretty well balanced. For a single-ear mic, it is also comfortable. The cable is connected directly to the base of the boom and it looks unusual, but guess it's even better that way with nothing extra hanging in between. Can't say anything about Avl630's durability except that a detachable cable could be an advantage. The cable does seem to be reinforced though and other than that, there isn't much to break.
| best price on | TA4F | TA3F | 3.5mm | 4-pin |
| --- | --- | --- | --- | --- |
| | --- | --- | --- | --- |