Sennheiser MKH416 is a professional shotgun microphone, which is also a renowned industry standard for filmmaking, documentary, television and voiceovers. It uses a true condenser, externally polarized capsule of a high quality that can tolerate harsh conditions very well. Featuring a fantastic rich and natural, clean tone it requires little to no postproduction at all. The amount of rejection is not too tight, it is also one of the few shotguns that works well for interiors and has a good sweet spot for voice overs, hence its double purpose. This mic has been proven with time and it well deserves every dollar spent.
Sound & quality
This is not an exaggeration when I say the sound of MKH416 is fantastic. The frequency pattern of this mic has been tailor-made with precision. The midrange is totally flat hence it has a very natural sound that compares to and even beats non-shotgun mics as long as you remain in the sweet spot and don't go too much off-axis because that's what we are trying to reject. The sound is very clean throughout the specter; especially the rich low end that it offers is simply fantastic. On the other hand, the highs are noticeably brightened, there is a lot of air and openness to it and virtually zero distortion and I mean it.
Technical specs are as follows:
Equivalent noise (A-weighted) = 13 dB
Sensitivity = 25 mV/PA
Sennheiser MKH416 is quite sensitive and doesn't need much gain. The equivalent noise figure is within expectations from the mics of this price range. If you can read it – great, if not all I can say is you won't hear any static or noise unless in a completely soundproof room, and even there it could be considered negligible for video production purposes. Sennheiser also offers mics with lower noise figures but this directly reflects on their price and it's simply not needed in most cases. There is a misconception that the MKH416 has a tube preamp, but it's actually solid state. Tube interference – is a fancy way of saying boom mic.
Directionality
The amount of rejection on the MKH416 is not too tight. It is still a shotgun, and it works like shotgun and perfectly rejects a reasonable amount of extraneous sounds but do not be deluded into thinking that it actually offers a tighter pattern – it is not. In fact, its pattern is more comparable to hypercardioid mics, which are commonly used for miking indoors. It's also one of the reasons it actually perfectly suits the voice over job unlike any other shotgun. Hence, it has a double purpose; it is used for both voice-overs indoors, and outdoor recording, such as in filmmaking, documentaries and of course, TV shows.
Voiceovers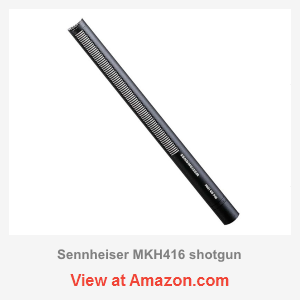 You may wonder why MKH416 for voiceovers aside from everyone using it and it's good that you don't blindly follow the herd and are trying to understand yourself. Indeed, spending a grand on a shotgun… (?) when you are not even a filmmaker may sound counterintuitive. My answer is this – first forget that it is a shotgun, it's just a mic. Other shotguns may have tighter patterns and sound unnatural, especially indoors, but this one is not the case. When you try it for voiceovers, you will fall in love with its tone. The sound is beautiful out of the box and requires little to no postproduction, once again, unlike other shotguns.
Second, it actually rivals studio mics with cardioid patterns and large diaphragm condensers such as Neumann TLM103 (similarly priced by the way). Why? Because most voiceover work is never done in a soundproof studio where those usually shine. If you get the Neumann with that huge ass shock mount and pop-filter in your home, you will be disappointed by the amount of room reverb and noise it would pick. And there is nothing you can do about it other than treating and soundproofing your room. MKH416 actually saves you money because you don't have to do it; simply a quiet room is all you need.
Build and durability
The mic is relatively compact only 250 mm in length and 19mm in diameter, though a bit on a heavier side, weighting 175 grams. Obviously phantom powered, there are no batteries but it's quite energy efficient and can work off a portable recorder for a good while. If you don't yet have a portable recorder, do check out for bundle offers. At the time of writing, I've just stumbled on an amazing offer MKH416 + Zoom H6 recorder for only additional $70. That's a perfect recorder for this mic, which would cost like $400 when bought separately. I'll attach the link below even though it's probably a limited offer.
Regarding the build quality and durability, we give it the highest possible mark. This review may be a bit late but the Sennheiser MKH416 and its forerunner MKH415 have been known for decades. Sennheiser definitely know what they are doing because despite the time it has retained the go-to professional shotgun status and an industry standard for not only video making and everything that comes with that but also voice-overs, which I cannot stress enough. And the mic has never had any reported issues with faulty units or dying prematurely. It's a solid tool that worth every dollar and will work for a decade.
- Reviewed at $998
Advantages:
Double purpose: video making and voiceovers
Fantastic, very clean quality of sound
Natural tone and robust richness
Well deserves the price tag
Very solid and durable
Industry standard
Review score
Outstanding! -

10/10