Audio-Technica 875R is a short shotgun mic, which is only 7 inches long, also having a smaller diameter. For a compact model, it has some good directional characteristics, effectively rejecting sounds starting from 60 degrees angle. This model perfectly works as an on-camera solution and can be used with stands or boom poles. Such universal solution is also surprisingly affordable. For the price, it has an excellent sound quality and I just can't recommend it enough. If you want a great all-around shotgun and do not have a thousand dollars to invest in higher-end equipment, then this is the mic for you.
Sound & quality
AT875R has an excellent dynamic range and produces a rich sound with a lot of clarity. It has a well-balanced frequency pattern with a slightly elevated high-end, bulging at 5 kHz, which results in a warmer presence. However, the vocals come out natural and undistorted. The mic has a fixed 12 dB/ octave roll off from 120 Hz and below. This is useful for eliminating low frequency noises so common for any directional mics. Noise characteristics are right on – it sounds pretty much like a professional device and does not produce any audible hiss whatsoever, unlike so many cheaper camera microphones.
Design and build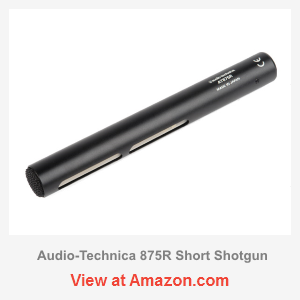 Even though it's a short model that sits in a low-end price range, it offers a decent build quality. The whole device is a bit simplified comparing to professional models but it has a very solid feel. There isn't much to break and I believe it's durable enough to withstand some abuse. This shotgun uses an XLR output and requires a source of phantom power, which means it cannot be plugged directly into a camera. Plug it into a mic preamp, Zoom or a similar recorder that can power up the device. More or less it's efficient.
The package includes a standard foam windscreen that does an ok job, though looks a bit cheap. If you need a better wind protection while frequently filming outside, I would advise getting this micover windscreen. In the package, you will also find a stand clamp and a mounting adaptor for placement on 3/8″-16 threaded stands. The wire is not included, so if it is your first XLR mic you'll need to buy it separately. Don't skimp on a decent cable; I mostly use Mogami and not a single one had any problems.
Who should use it
This budget entry model can satisfy most of the videography needs, including field or outdoor recording. It can also be used for lectures and conferences, where you cannot put a lavalier mic on the speaker and it's forgiving if he goes a bit off axis. Obviously, it won't be as good as $1,000 model, but the point is you may not necessarily need it. On contrary, while those bigger shotguns can usually provide a more directional pick-up pattern, they may require a boom operator and will less likely accommodate for an easy on-camera solution.
Pros

Fantastic price
Excellent quality for the buck
Good directional characteristics
Sturdy, compact build

Cons
Review score
Excellent! -

7.8/10