Here come the latest 7-piece drum mics from Shure, which rely on their new model range called "PG Alta" or simply "PGA". Those microphones are highly cost-effective and yet retain that professional quality for which Shure is renowned. If you cannot afford premium sets of drum mics and still want to get every bit of quality, then PGADRUMKIT7 will be your best investment. For only about $500, you are offered a complete package with a road case, mount accessories, cables and amazing quality mics… The clean and natural sound reproduction along with convenient design makes it great for both live jamming and budget recordings alike.
What's in the box
Microphones:
Accessories:
1x PGA52 for kick drum
3x A25D clips
3x PGA56 for toms
3x AP56DM rim mounts
1x PGA57 for snare
7x C15J 15 foot (4.6 m) XLR cables
2x PGA81 for overheads
1x 95F16526 carrying case
Shure PGA52 review / kick drum
The new kick mic from Shure is an ass-kicker! We've been used to their Beta 52a for over a decade and all agreed that it was a great mic, although it did have its own distinctive sound that many people would disfavor. Particularly, it sounded too deep and no matter how positioned, it just couldn't be flexible enough to accommodate for different playing styles and especially smaller size drums. The rock music would sound richer and fuller but the jazz would become unbearable. Adding up, that loud and clean attack of Beta was put together well, but in terms of freq. response and naturalness, it could have had more balance.
Shure PGA52 and Beta52a, although sharing the same series number are actually two completely different mics with different capsules. PGA52 is lighter, it has more gain / sensitivity and the sound is unbelievable – nothing like the old model! This time Shure has brought up a better-balanced attack while also tuning the lower range… The bass part is now nicely defined and has a more appropriate frequency peak (76 Hz). Overall, not only did the sound improve and became more natural, it has actually gained much more flexibility for the use in various kinds of setups!
It was really amazing to see it working equally awesome for both a noisy metal band with 24" and a calm pop drummer on a different 20" kick drum. The trick was partly about positioning; depending on the placement, we were able to get some good combinations of sharpness and depth. Other kick drum mics hardly offer such flexibility – usually there is only a single position where the sound is OK and anything else results in something harsh or unnatural. On the other hand, PGA52 seems to have that very good balance right from the start – and that's the other part of the trick.
Shure PGA56 review / toms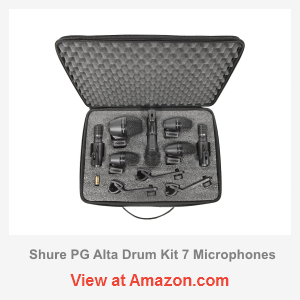 PGA56 sounds kind of similar to SM57 on high toms and gets the job done just fine. Although it is a relatively cheap mic, I find it that tom mics do not actually have to be expensive in order to sound decent (unlike the overheads), so I really cannot complain. Yes, there are certainly better models out there, for example my favorite Sennheiser MD421. However, very few can afford it and since we are reviewing a budget set, such comparisons are irrelevant. On the other hand, many mics are worse, and I am glad that PGA56 sounds pretty natural without being congested or ringy like some others.
On low tom, PGA56 sounds even better, wider and clearer – a bit better than I thought it would. I like it more than SM57, which tends to add some strange cloudy midrange, but still it is not as good as the original Beta 56a. No wonder the old Beta still rocks, as it is more than twice as expensive! Like the new kick mic, PGA56 has some good amount of gain and a nice looking design. The rim mounts that come along with those are very convenient. You can quickly set them up and remove without any issues. I wish all my microphones had the mounts like these!
Shure PGA57 for snare
PGA57 has a smooth frequency pattern and it's capable of providing natural sound with good amount of detail – and that is quite very important for snares. It has a gently fading low frequency roll off, which I find more appropriate than the original SM57. The mid-range is transmitted beautifully but I find it lacking the crispiness comparing to professional models. However, the extended response isn't considered a big deal for snares, as there are mostly only subtle harmonics… As long as it has natural mids and upper-mids, you get a very satisfying sound for the price.
Shure PGA81 as overheads
PGA81 turned out to be another pleasant surprise –these are excellent overheads for those who cannot afford the original SM81 that cost 3 times as more. Those condensers are just as crisp and offer a nice transient response due to their diaphragm size. The frequency pattern is similar, still somewhat smooth but not flat. For instruments, this could have made a difference; for overheads, this isn't that crucial. In fact, you will not notice any audible difference between this and professional models, so unless you are very picky and do a lot of professional recording, you won't find any reason not to love those new Shure's overheads.
Overall
Overall, those are very great mics and what's most important is they have an unbeatable price. There is no deceit – PG Alta is a very recent release and as the trend goes, new models generally cost less to produce. Every single piece included in this set is actually good by itself (especially that amazing kick drum and the overheads), so you can be assured of a quality sound. Each mic also comes with its own wire and mounting tool, which is a nice and thrifty addition. Setting it up is a breeze and once locked, nothing ever goes loose – a pleasure to work with in all aspects!
Pros

Best ever price vs. performance
Amazing kick drum sound
Excellent overheads
Complete accessories / steady mounting
Neat & durable design

Cons
Review score
Outstanding! -

10/10