Samson 8kit is a great choice for 8-piece recording. Although of a less known brand, this model features an unbeatable price and even overthrows the more expensive kits from long-established competitors. To our surprise, it sounds well above par.  It takes the middle course of bringing more of a balanced sound and maximum transparency, suiting a variety of drums with little to no adjustment. The mics of course, are not premium but they are very decent and precise. A great match for a great set… and one thing's for sure: you will never find anything nearly as good for such price!
Setup
Samson 8kit will work with pretty much any 8-piece drum set. This usually implies a snare, bass drum, 3 toms, 2 cymbals and a hi-hat. Each piece is served with a corresponding mic type, so you get the following models respectively: Q-Snare, Q-Kick, 3x Q-Toms, 2x CO1 for cymbals / overheads and C02H for hi-hat. They are easy to mount onto an existing drum set and this does not require any additional mic stands. However, the mounting system is underlooked in terms of durability. Clips may eventually break off so be prepared to improvise.
Sound & quality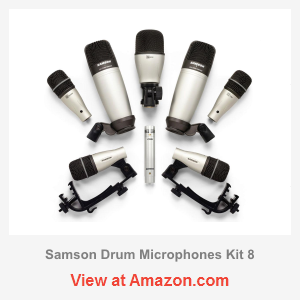 In a drum set, all pieces are more or less equally important. However, when it comes to miking, some are more demanding than others are. First of all, this applies to the bass drum, so let's start with Q-Kick. That mic model is relatively cheap and unknown… yet surprisingly it does an amazing job. I was actually expecting to hear something bland and tasteless as of a typical, cheap kick drum mic, but it was nothing like that! Perhaps, it is not as dynamic as AKG112 but it sounds briskly and never muffled. It has a sharp and stunning attack. The low frequency peak is lower and results in a deeper kick as well. Where AKG112 may sound thin, this thing will actually shine. It may take you some time to adjust for the best position but in the end, you will love how it sounds!
The pair of overhead LDCs is also remarkable – vivid, crisp, dynamic… I really find those CO1's excelling at capturing cymbals after comparing it with a number of good and not so good models. Yet it's still hard to believe that you get them as a part of 8-piece set! For reference a single LDC of a good quality would alone cost as much as $150-200. Maybe they aren't that good for singing, but they are excellent overheads! Enough said. As for the rest of the pieces, I don't have much to say except that they do mix well. Toms sound just as good as I wanted to and even the snare is terrific. I would certainly recommend them again and again!
Conclusion
Samson 8kit will probably satisfy even the choosy musicians with its above par sound quality, so do not think of it as just another cheap set, but rather consider low price as a bonus. Overall, the mics themselves are somewhat sturdy and relatively durable. The only problem is the mounting, which is unfortunately flawed. For studio use, this is not a big issue, but for live performance, some will find it problematic. We haven't been using them for long and the mounting was still intact. However, it did look somewhat flimsy and from what other people say – they do break often. Personally, I would not want to mess around fitting them with tape, especially outside studio walls. Reliability is what they lack… Otherwise this would get a solid 10/10 score.
- Reviewed at $299
Pros

A well matched set
Excellent bass and overheads mics
Balanced, overall quality sound
Unbeatable price

Cons

Fragile mounting system requires delicate handling