TOURING7 is a new drum mics set from CAD Audio that comes with a very humble price tag. As a budget model, it isn't supposed to be all-perfect, and yet it still brings us a great sound, which is more than decent for the price! This mic set works particularly good for live gigs, and it's relatively easy to set up for any hot environment. As a bonus, you also get carrying case – a simple piece made of plastic but still a nice addition. All in all, this is a great, easy to recommend, budget set with a surprising sound quality.
Package
CAD Audio Touring7 is obviously designed for 7-piece drum set. It is pretty much standard, with the only exception that it has four mics of exact same type for capturing three different toms and a snare drum. So, the package contains 1x D12 as a kick mic, 4x TSM411 for toms / snare, 2x GXL 1200 for overheads and a soft case to carry them around. Then, you also get four pieces of mounting clips –quite cheap but they do hold well.
Sound & Quality
This set relies heavily on TSM411, which is used for floor toms, rack toms and a snare. Those drums produce different sounds covering low to middle frequencies, so they are usually miked with different pieces of equipment. For instance, Audio Technica sets use three different mics for this purpose and that gives them a bit of advantage. Touring7 here is inferior in terms of quality, but on practice, that difference isn't big.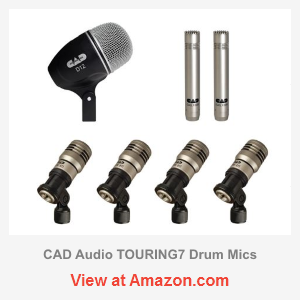 TSM411 does an amazing job on toms as it offers a lot of clarity along with balanced lows. For a snare drum though, it may sound kind of hollow. SM57 in this case is more accurate and simply better to my ears. However, TSM411 does offer a better sound rejection due to a super-cardioid pattern, so even at the price of under $50 it remains a tough competitor and a viable choice for many. The more directional pick-up pattern is also one of the reasons why this set does so well for live gigs.
D12 made for kick drums is equally as important. An unadjusted kick mic can easily ruin the whole setup and there's a number of things can possibly go wrong. Fortunately, CAD did not disappoint us and brought another decent mic, which is in line with the rest of their products – cheap looking but good sounding. It features a crispy and accurate click, which I like to emphasize even more with a bit of EQ. The bass part is more solid, though it mainly suits medium and small kick drums. On larger drums, you may find it lacking that depth.
GXL1200 is a more common model from CAD Audio – a pencil mic that also finds some general uses such as stereo miking. It is bloody cheap and I'd say has only average quality. The frequency response is a bit shaky at the upper end, and as a pencil mic, it can be considered as 'noisy'. However, it does pretty well for overheads, and on stage, those small issues would never be noticed anyway. To put it simply, if you need cheap tools that work – I could easily recommend this model.
Conclusion
TOURING7 is a set of cheap but good mics where you are offered 7 pieces for a price of one. CAD Audio is best at producing budget mics that may look terrible yet still offer a great performance. Like all budget sets, it does have its own minor issues but overall it has a great sound quality. Four mics in this set are supercardioid, and this makes a big deal in sound rejection, which is so much needed for live performance. A well-made set that performs far better than you would expect!
Pros

Bloody cheap
Excellent performance
Good sound rejection
No mounting problems

Cons

Won't do for studio recording