Sennheiser e965 is a premium large diaphragm vocal mic with a true condenser capsule, switchable between cardioid and supercardioid patterns. This mic has been out for some while remaining relatively unknown. The price was high in the beginning, it costed as much as Neumann and other high-end models, so those willing to try it out were few. But recently, the price has been significantly reduced, so we finally decided to give it a shot and make this review, and oh boy was I surprised. While it is so easy to go wrong with condensers on stage, this mic has taken care of everything to make it fully worthwhile!
Sennheiser e965 is a true condenser, which means it is externally polarized. Those types of capsules are often found in studio and generally offer a better quality overall, compared to more common electret mics. The diaphragm diameter is 1 inch, so it is indeed quite large and makes it very good at handling the low end even when voice extends lower. Sennheiser e965 provides rich, undistorted low end and a well-rounded bottom. There are actually few mics like this one, with a large diaphragm, because most condenser handhelds usually settle for medium-sized diaphragms, not larger than ¾ inch in diameter.
For comparison, Neumann KMS 105 capitalizes a bit more on the lows, working its proximity with a little more boost and empathy there. However, the KMS 105 is not the best mic for live performance, as it is especially more susceptible to feedback and is poorly suited for a more aggressive environment. In fact, they actually recommend using it with in-ear monitors (despite that it has a supercardioid pickup, which is supposed to have an improved side-rejection [ and feedback resistance by extension ]). After all, KSM 105 is a bit more of an instrument mic, and may not be suitable for every different singer.
Shure KSM9 on the other hand has a little bit less proximity pre EQ though still quite balanced, and suited for any type of stage. And yet, Sennheiser e965 is once again slightly better overall – it is as versatile as the KSM9 and is now considerably cheaper too, and has a larger capsule for a less hyped proximity effect that can be more efficiently negated via low cut filter when the situation demands it. Sennheiser e965 does not lack richness; it may be a bit less hyped than Neumann KMS 105 but it has more depth to it. For a very deep voice, it would be a good idea to use some external low cut when in supercardioid mode (according to taste of course).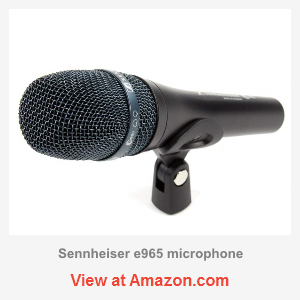 But once again, it is optional, as it has a built-in roll off that does it very well, with a huge benefit of a large diaphragm that it makes it less puffy and more stable in its low end response. Not only that, a large diaphragm also helps it sound smoother and makes it less responsive off-axis, especially to higher frequencies, such as present in cymbals. Sennheiser e965 surprisingly, doesn't pick much of the background sounds, which is a common problem with a vast majority of condensers out there. I have seen dynamic mics that are way hotter than this one. The handling noise of this mic is also minimal.
Sennheiser e965 is ideal for stage. It has a good feedback resistance on par with dynamic mics. It has just enough brightness to cut through the mix without sounding harsh. In fact, there is no noticeable distortion or brittleness at all. This is very important because even most expensive mics are suffering from being brittle whenever they are trying to capitalize on that added brightness, but this is definitely not the case with the e965. As regards to the clarity, I don't think I have to advertise much the clarity of a condenser here, because this is just something that comes naturally with it, among other perks.
Sennheiser e965 has a nice brightened response, but not brittle, it is a very clear and open-sounding mic. A well-polished frequency response, smooth, without any irregularities there makes it sound very natural too. Especially the cardioid pattern gives it a studio quality sound, no gimmicks here. The mic has a high sensitivity, in a sense that it provides a significantly higher output and needs less gain to drive, but that doesn't mean it would distort the sound in any way or require some special treatment. On contrary, it is easy to use – it just sounds more expressive and dynamic, adding a bit more detail and definition to your songs.
This mic would be an excellent choice for any professional singer on stage. Sennheiser e965 is a natural upgrade to a dynamic e935; and it rivals other high-end condensers without getting too expensive. Particularly, it offers a better gain before feedback than Neumann condensers and it is less sensitive to background noises or in other words, it is not as hot and therefore more suitable for live sound reinforcement. Switchable cardioid and supercardioid pattern make it even more versatile for all around use and the e965 has no problem with handling most of the instruments either whenever it is needed.
- Reviewed at $499.95
Pros

Rich low-end response, natural sound
Very good clarity, cuts through, crispy but not brittle
Switchable cardioid/supercardioid patterns
True condenser offers a studio quality sound
Not as hot as other mics and resistant to feedback
Excellent price for a high-end condenser of this quality
Versatile for different venues and can handle the instruments too

Cons
Review score
Outstanding! -

10/10