SMX-30 is a solid DSLR mic that makes a hybrid of shotgun and X/Y stereo mic. It's surprising to see this innovative approach from Azden, which is a relatively new manufacturer but they've actually created a new, highly demanded and quality piece of equipment. SMX-30 also wears a modest price tag. Costing about the same as Rode VideoMic Pro R, it brings you an additional stereo mode for free. We were skeptical about this announcement because there is no such thing as free lunch, they say. Yet, the stereo mode turned out anything but poor and not even inferior to standalone gadgets!
Stereo vs mono
There is one thing we need to make clear about Azden SMX-30. If you were hoping for a Mid/Side stereo shotgun, this is not the one. MS shotguns exist only in professional world and are usually sextuple-hexatruple times more expensive than this little boy is… What those do is they allow capturing stereo while being directional since both capsules are carefully positioned inside the line tube. SMX-30 on the other hand combines two separate devices – traditional shotgun and X/Y stereo mic that rests on top of it. You can switch between the two but you cannot use two at a time as it's technically impossible (and even if there was an option for superimposing the two signals, it would suffer badly from comb filtering).
Shotgun
The shotgun part uses the same capsule as the SMX-15 and it has a pretty decent performance. Both models have been released in 2016 and admittedly, they are a great step up from their predecessors. It is once again very similar to Rode VideoMic Pro R, however Azden claims the advantage in the design. VideoMic series have always been nice performers but suffered from flimsiness and felt wobbly on top of the camera. SMX-30 feels more substantial. The suspension is stiffer and more durable while still providing some good isolation. Also, it is slightly more directional while featuring shorter dimensions.
In terms of the frequency response, VideoMic is a bit more precise, it's pretty flat while featuring just a tad of added brilliance but other than that, their specs are almost identical. Azden's capsule sounds a bit brighter and produces more hype if you wish, however I have to admit I actually enjoy listening to this 'hyped' sound. In general, the frequency response is just a part of equation and it won't tell you the whole story. The problem with DSLR is that they almost always come with sub par pre-amps, and this often results in degradation of quality, especially in terms of added noise. But, fortunately, SMX-30 turns out very quiet (even when paired with cheap cameras) and it's quite an advantage.
Stereo mic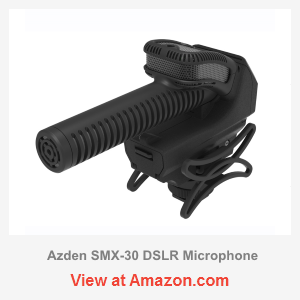 While shotgun is always preferable for speech, stereo mic is a nice companion for wildlife adventures. Instead of isolating particular sounds, this device captures the very background itself and makes you submerge into the action, just like when you are watching movies on your home theater. This of course won't produce Dolby Surround sound – only stereo, but this is enough to create some impressive impact for your audience. Nevertheless, stereo mode is mostly situational so I see it only as a bonus, but the cool thing is that you can always switch on the go, without loading your bags with gear.
The first thing you'll notice when using SMX-30 is the bright quality of a sound. It's kind of unusual but it gives you a more dramatic stereo image. Brighter sounds are always easier to localize so I guess it makes sense. At the same time, it doesn't sound harsh to my ears. The distortion is almost non-existent even if it suddenly captures something very loud. I anticipated a higher self-noise in stereo mode but Azden again surprised me with silence. Overall, I find it impressive and also comparable to more expensive mics.
Features
Azden SMX-30 provides all you need from a DSLR mic. There you have a 20 dB boost, which is crucial for a quality sound. High pass allows reducing low frequency noise and can compensate for proximity when up close. I must note that it's rather gentle here and some may find it lacking but at least it's safe to have it on for the vocals. The mic is powered by 2xAA batteries that will last for at least 24 hours. That's certainly less than Rode while consuming more raw power but this power is not being wasted. They have made a very low impedance output circuit that takes more power but results in significant noise reduction for cameras and portable recorders.
Overall
Despite some of the disadvantages, I pretty much enjoy using this mic. Without asking for premium, it combines a decent shotgun for directional audio and a decent stereo mic for surround. At the same time, it's quite compact and much less flimsier than Rode, so I can just throw it in the bag and forget about it. Good audio quality and excellent noise levels pay out when plugging directly into the camera. So far, nothing I would really complain about. For those who want a quick and easy, all around DSLR solution, I would certainly recommend this microphone.
Pros

Exceptional noise levels
Good overall quality
Combines stereo and shotgun
Good durability
Cost-efficient

Cons

Has a bit of color
Batteries could last longer
Review score
Very Good! -

8.1/10