AT Pro 70 is an affordable, professional lavalier that comes with a battery pack and a standard XLR output. Ideal for both voice and instruments it also includes a handy instrument mount in the package. This microphone uses phantom power to polarize the capsule. Phantom power can be either supplied externally or generated by the battery. It's quite useful, especially if your device does not produce the phantom power by itself. Powered by a single AA battery it can work for up to 2 months straight. It uses a cardioid polar pattern with an option for bass roll off apparently to combat the proximity effect.
Sound & quality
Audio-Technica Pro 70 is not high-end, but it does produce a professional sound. It is also very nicely priced and I believe it's one of the best, if not the best in a $100 price range. Unlike with other cheaper lavalier microphones, the manufacturer actually provides complete specifications for this model, which include frequency pattern and polar diagram. The frequency pattern is a great way of backing up claims about sound quality, and in case with AT Pro 70, it does indeed look great for a lavalier mic. It is overall smooth and has a slightly softer low end that may help in eliminating the proximity mud and vibrational noise.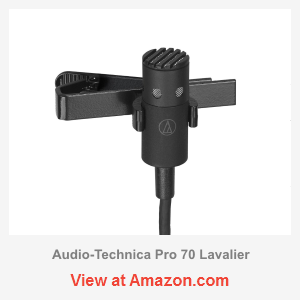 Having a cardioid pattern, the pick-up angle is reduced to 120°. This allows to reduce a great bit of environmental noise as well as reverberation but make sure to point it straight up towards your mouth, a guitar hole or whatever the sound source. On the other hand, like all directional microphones it inherits a proximity effect that boosts the low freq. proportionally to the distance. Contrary to the logic, this won't affect your voice unless you are eating the mic. The problem is it becomes sensitive to handling. Vibrations virtually have zero distance to the capsule so they receive an enormous decibel boost. It isn't so terrible after all, but it will be heard if you're rubbing the mic or its wire.
Design and build
Audio-Technica Pro 70 boasts a sturdy and quality build, which is easy to tell even by looking at the pictures. Starting from the grills, they look quality. You can clearly see a metal screen through the holes that acts as a pop filter and the capsule is well protected. The microphone is hardwired with the power module by a thick 6 feet cable. I usually don't recommend the hardwired solutions, but this won't be the case as it still connects with a separate XLR to the body. Perhaps, the pin isn't that perfect as it keeps on detaching from time to time but at least it will never break. Windscreen sits tightly enough though.
Conclusion
The mic is just awesome for its price and you'll never get disappointed with the purchase. It does have some minor issues, but which piece doesn't? What's more important is that it can be used for a whole lot of things starting from interviews and ending up with music and instrumental recording. Ideal for videographers, public speakers and musicians, AT Pro 70 offers unequalled performance and can probably serve for a good number of years. If you don't want to invest $400 in a high-end lavalier for a slight, if at all noticeable increase in performance than this is the mic for you.
Pros

Top notch performance
Works great for both vocal and instruments
Comes with an autonomous power supply
Sturdy, quality build

Cons

Rubbing the wire is audible
Review score
Outstanding! -

10/10