Shure MVL is a new lapel mic with TRRS connector designed for mobile devices. It belongs to Shure Motiv line and comes with a handy mobile app for iOS users. Other platform users will have to rely on third party software but it shouldn't have any compatibility issues. This mic is also the worst from their new line and the sound quality is unimpressive at best. It does have its own strengths, for instance, it has a high SPL before clipping and it can be used for recording inside bars and noisy parties. The sound is also quite crispy and more on the bright side. But the cons are far too many so it just doesn't worth the money.
True value
Recently we've been reviewing Shure MV5 from the same Motiv Line, and it turned out to be a beautiful USB mic with plenty of technological advancements. However, Shure MVL is just a cheap rebranded consumer lavalier, which isn't any better than those manufactured 20 years ago. All they did is attached it to a TRRS plug, and now they market it as something new. TRRS is a relatively new standard and the demand for quality smartphone mics is ever increasing. Unfortunately, consumers are unaware of how the quality lavs should sound, so it's very easy to take them for a ride!
Do you know the real value of this microphone? I'd say $30 bucks tops, because it is debatable whether or not it sounds any better than a cheap ass Azden EX503 /w adaptor. If you want to make a better investment for your time and money, you can buy Giant Squid Audio Lab and a TRRS adaptor. This will give you a far better quality sound for only $60 including the adaptor. If you don't like the idea of using adaptors, you may also consider Rode smartLav+. It is more expensive ($79 as I'm writing this review) but it's also worth purchasing though I personally prefer the Giant Squid. Both of them will easily beat Shure MVL.
Sound & quality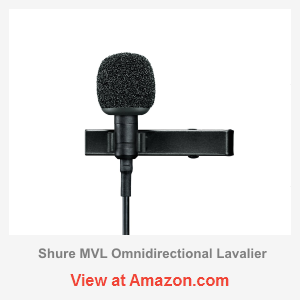 Shure MVL has a very crispy response; it sounds a bit bright and it's great. However, it also brings tons of air along the way and I don't find it particularly comfortable, especially as it gets digitalized. It tastes artificial, as though there is someone taking a shower behind the scenes when the person starts speaking. Ssssssss…… Aside from that, you will hear a constant static noise unrelated to the input. And it goes like shhhhhhh…… It isn't that loud so don't imagine Niagara Falls! Yes, you can live with that and it is still better than using an in-built mic, but for this price, one would expect it to be better.
Having said that, there are also plenty of funky resonances and harshness, which I don't quite understand. The frequency response is relatively neutral, so the tone is overall balanced but at the same time, it just sounds harsh and distorted. The low end is gently rolled off but it's quite accurate and it doesn't sound tiny at all. It may be one of the reasons to like it. But the only reason to buy it would be an ability to work in high sound pressure environment. Most lavs nowadays will clip as you shout or even clap your hands. Yet, Shure MVL can handle much louder sounds than that.
Build and durability
The build is about decent quality, it's not as bad as it sounds and will probably last a while. The cable is 4 feet long; it is nice and soft. The mic is very easy to set up and secure in place using the included metal clip, which does the job done but I find it somewhat bulky and visible. It just doesn't look cool when you're wearing it. Shure MVL has a gilded plug, which provides a good electrical contact with your device. Unlike non-gilded connectors, it's unlikely to produce those rustling sounds when you are twisting or touching the plug. Finally, there is a detachable windscreen and a carrying pouch included in the package.
Pros

Works with loud sounds without clipping
Crispy, slightly bright response
Balanced low end
Decent build

Cons

Overpriced
Harsh and distorted
Too much air
Audible static noise