Sennheiser e835 is a budget mic of above average quality that has a very distinct wide cardioid pattern. As such, it offers minimum proximity effect and it's quite forgiving if the talent goes a bit off axis. This mic is very easy to handle and it will be ideal for presenters, churches and other non-critical applications. It can produce quite clean, unobtrusive and intelligible voice as long as you don't push it to the limits, and this is a key point. In terms of gain before feedback, it works great at moderate levels even without restricting your freedom of movement. However, on loud stages it may produce constant feedback.
Sound quality
E835 has a bright response and offers a strong in-your-face presence, which makes it very easy to cut through and yet the higher end lacks some transparency. It's not too muddy and it's not inferior to other mics in this price range. Most people won't notice this, although a seasoned musician may get irked. It still outperforms the SM58 but the transient response isn't that much better. The upper midrange is a bit bloated and gets outright harsh if it's pushed too hard, especially on those soprano harmonics that fall into range.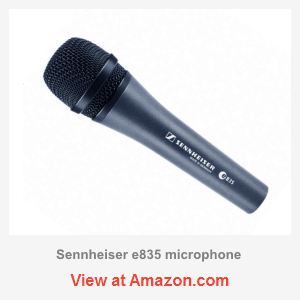 Still, you should not get a one-sided impression about this microphone. Sennheiser e835 is excellent at handling speech, and it has a pretty damn balanced low end. The impact of proximity is minimal and talents will never get boomy. More or less it sounds natural.
Taking brightness into account, it actually performs very well for baritone singers. Some people won't even need those more expensive mics to sound good and as long as gain before feedback is not an issue, this can prove to be a very good buy. For tenors and soprano, it's also usable but it may lose some detail and get a bit edgy in the upper midrange.
Build & durability
This mic has a decent quality build, quite similar to more expensive Sennheiser models. Likewise, it is covered by extended manufacturer's warranty. It uses a humbucking coil that reduces electromagnetic interference, and it has a quality suspension for the capsule, which will effectively minimize handling noise. The body design is where the things get different. In spite of having similar looks, 800 series are for some reason lighter than 900's. The mesh grilles on e835 also seem a bit weaker and may potentially come off if dropped repeatedly. I'd advise using it with care, since you don't want to void the warranty.
Advantages
This mic has a very attractive price tag and pretty decent performance for the money.
It is also among the most popular models from Sennheiser.
Strong presence. Easily cuts through the mix. More or less natural sound.
Excellent performance for speech. Produces intelligible words, no boominess.
It is easier to handle than mics with tighter pickup. The sound will not change when slightly off-axis.
This also implies the possibility to mic two talents simultaneously.
Very balanced low end – works great for baritone singers.
Has a quality internal shock-mount and humbucking coil.
---
Disadvantages
Lacks transparency. Transient response could be a bit better.
Hyped upper midrange that gets harsh on strong notes.
Not as versatile as e935. Mesh grilles are less rigid.
May produce nasty feedbacks on loud stages.