Introduction.
NT1 is a new all-purpose LDC from Rode with a truly exceptional sound. It resembles the appearance of older NT1-A, however, the inside has been redesigned from scratch. Comparing to predecessors the sound has become clearer, purer and far more natural, showing a tremendous improvement in every single aspect! As a large diaphragm mic, it also has a very neutral response, which is a privilege of expensive professional units. Particularly, it is very similar to Neumann TLM 103, and even surpasses it in terms of noise, which is simply incredible! And that is, for only ¼ of the price…
Video review
Sound & quality
Rode NT1's quality owes to a totally new capsule that uses 1-inch (large) diaphragm. The advantage of large diaphragms is that they naturally produce a stronger signal, which requires less amplification and results to a higher signal-to-noise ratio. This factor is very important in studio recordings where every dB counts, but of course, there is more to it. Those who have owned some good LDC before will never mistake that enchanting, signature sound it offers. However, in a recent span of years, no one could have imagined such a striking breakthrough was about to happen.
Technically, it is very challenging to produce a large diaphragm mic with a crispy, extended response that would yet remain neutral and unbiased. Neumann mics, such as U87 and a similar TLM103 are rather few exceptions that have managed to come close to a perfect response diaphragm but they cost over $3,000 and $1,000 respectively. That is ok for professional studios but not for average users, so those who could not afford Neumann would have eaten that unbalanced sound of cheaper mainstream models. Now, Rode NT1 is one of the new generation LDCs that changes the game rules.
The capsule of NT1 sounds completely neutral and very stable even in the higher range specter. It can easily handle the whole range of human voice, including higher harmonics, and even percussion instruments like cymbals. Yet to say, "It can handle" is to say nothing… NT1 not just handles, it blows you away into a completely different dimension! Not only has Rode brutally dealt with its competition, they have actually defined a new quality standard. They made it that everything sounds with maximum clarity and precision. At the same time, they made it unbelievably cheap.
Technological advancements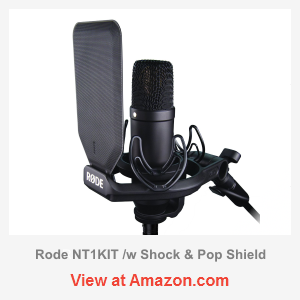 The technical advancements do not end here. NT1 relies on precision electronic components and a new circuitry that also contributes to extremely low noise output. Although it is powered by a standard ~48V phantom power supply, the capsule is biased at a higher voltage with the help of an integrated DC-DC converter. A new capsule suspension system gives more resistance to shock and works as a second line of defense against vibration noise. Even the body hasn't been left without a touch of innovation as it uses a military grade ceramic coating, so I imagine it's quite very durable too!
…A couple of more mics like this and I won't wonder if Neumann soon decides to make a stock clearance. However, by nature the microphone market is quite inert. Consumers will still rely on older models and it can probably take more years before NT1 will gain all of its deserved popularity. If you are willing to research more on this model, I'd like to note that Rode is known to sin by making multiple mics with the same name. Older NT1 and NT1-A belong to a long-established series but they were only average mics. The model reviewed in this article has been announced in 2014, so keep that in mind.
Rode NT1 vs NT1KIT
This mic is available in two versions: Rode NT1 and NT1KIT. The kit contains a shock mount and a pop filter mounted on top of it. Other than that, both versions contain a ring mount and a simple cover to keep it from dust. I believe that most people would go for the kit as it adds some very good value for money while assuring the compatibility. To be honest I find that new shock mount very weird looking, especially in action, when I see it swinging like on a cradle, but I must admit it does a very good job. As of pop shield, it is not superb – just about decent, but I wouldn't complain either.
Applications
Rode NT1 is one of those mics that can sound good on virtually everything. Vocals, cymbals, instruments – you name it. This is the time to move on and collect the dust-covered garbage… because from now on all you need is one mic! Of course, the general rules when working with any LDCs will apply. Like, when you move the sound source off the axis, a change in response will ensue. It is good when you can have it fixed on the source. And as usual, positioning will play an important role. It may require some experience to get it right, but once you dig it, you won't get off the hook!
Pros

Exceptional clarity / purity of sound
Extended neutral frequency response
Extremely low self-noise (4.5 dBA)
Good for all: vocals, instruments, overheads
10-years extendable warranty
Amazing price point!

Cons
WARNING! MAKE SURE YOUR AMAZON SELLER IS AUTHORIZED: https://rode.com/en/support/where-to-buy
Review score
Outstanding! -

10/10