Giant Squid Audio Lab is a renowned lapel microphone that works wonders in all kinds of setups. Despite being one of the most affordable choices, the quality of its sound can likely blow you away. Having a standard 3.5 mm microphone jack, it can be used with most of standard devices, including computers, laptops, cameras etc. For smartphones though, it may not be the best choice, as it will require an additional 4-pin 3.5 mm adaptor. Regardless of the description that states about powering, compatibility is not an issue. In fact, it works the exact same way as any common microphone headset.
Sound & quality
This model has more than enough quality for any voice recording and can even handle occasional singing. The sound has a good amount of detail and crispiness, especially when paired with a good recorder. Unlike many other models, it is not susceptible to plosives and sibilance, which are some of the common problems in recording. The windscreen however could be made better. It doesn't sit tightly and may detach if you make a wrong movement. Do not lose it or make sure to procure a couple of extra foams, as it seems like the only thing that can go awry.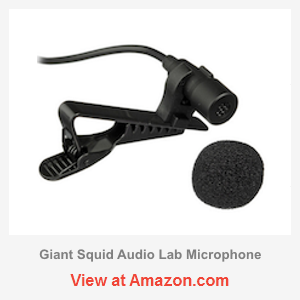 For the best results, you may want to use a specialized recorder. A lot of people couple it with Zoom H1 or Zoom H4n. Those devices will add for the cost, but will provide an incredible quality along with some vital features, including stereo mode. The most important advantage of zoom recorders is that they cancel the room and ambient noise. This is achieved by having a pair of mics built into the device that listen to room noise and subtract it from the main signal. The latter is obtained from an external microphone, which in this case is the Giant Squid Audio Lab.
Such setup will work even for noisier environments while assuring you capture only what is intended. We've tried using it for recording of conversations while hanging it by the wire in between two persons and it also performed surprisingly well. On the other hand, plugging it straight to your camera won't sound as good, especially if you take it further far away from your mouth. Anyway, it's still a great mic and any recording device is optional. Yet, if you have an extra budget you should invest it in a recorder, as it will give a substantial difference.
Design and build
Overall, the design is quite simple and has nothing fancy about it. What's more important is that it's sturdy enough and made solid all the way down to the connector. I especially liked the clip – it is full metal and it sits well on just about anything. Other mics often tend to detach, but this clip never gave me any problems. Another small disadvantage aside from the loose windscreen that I mentioned early is the cord, which is hardwired. As a general rule, cords tend to wear our and can also be accidentally teared. In such an event, instead of replacing the cable you'll probably need to buy a whole new mic.
Pros

Great price
Excellent quality
Compatible with most devices
Solid build
Secure metal clip

Cons

Loose windscreen
Cord is not detachable