Electro Voice 767A is a cheap but very good sounding vocal mic. Although it may not be as durable as Shure SM58, it certainly has a way better performance for just about the same price. It has a bright high-end with a smooth bottom end. Whatever your voice is, it will never sound muddy as this mic always delivers a lot of detail and clarity. If you need a good entry-level mic with above standard sound quality, and you don't mind being cautious with handling, then 767A is the mic for you. Especially, if you consider some future upgrades and are ready to accept its limited longevity.
Sound & quality
When it comes to sound, the first thing you will notice is 767A has a much higher sensitivity than most of the other dynamic microphones in the market. This is achieved by using a considerably larger diaphragm transducer. In terms of clarity it's quite crisp and easily beats SM58 in A/B comparison. Inflections preserve a lot of detail similar to that of a condenser microphone. It can handle high sound pressure. For a live performance, this means you can sing as loud as you wish without having to worry about the sound being distorted. Surprisingly, this mic is one of the few that works well for bass singers where other even more expensive units often sound unbearable. Actually, it works well for all kinds of voices (not only bass) and thus certainly deserves credit.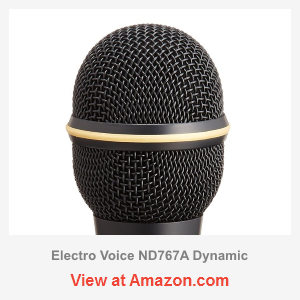 On the other hand, a much more important factor for the stages with high sound pressure is the gain before feedback. No matter how good a mic sounds in a studio, but if it triggers a PA squall it can ruin any performance and as such, practically becomes worthless. Having a supercardioid polar pattern, 767A actually delivers a quite decent GBF. As most stages have speakers at both sides rather than in the middle, a mic with such pattern will work much better than typical cardioid (e.g. SM58).
Durability
This is where Electro Voice 767A gets tricky. Unlike other cruiserweight champions, this mic is not designed for resisting abuse. That doesn't mean it will shatter like a glass the first time you drop it. I've read that someone even dropped it intentionally to see if it will continue to work. And it did. But I'd love to see him doing that a couple more times just to prove him wrong. According to reviews, many people claim that the mic dies even without any apparent reasons, let alone the misuse. So I would advise being very cautious about handling. Just because it's dynamic doesn't mean it is bulletproof.
Who should use it?
EV 767A can be excellent for starter or occasional performers who want to get the best quality within a limited budget, but also bass singers. It delivers a good amount of precision in the voice, and so allows you to hear yourself clearly. This will help you with learning while avoiding some defective techniques and imperfections. On the other hand, if you trained singing with a muddy-sounding mic, when you upgrade to a professional model, you may need a bit of relearning. All in all, even if it won't serve you for a decade, it is still a very cheap mic, and if it eventually dies it isn't that big of a deal. For such a low price and great sound, it's really hard to complain.
Pros

Quality sound for the price
Cheap for a supercardiod mic
Suitable for all kinds of voices, including bass
Decent gain before feedback
Good clarity

Cons

Questionable durability
Sensitive to plosives
Edit: the mic was nice but now it's phased out, original score = 7/10