CAD M179 is one of the good old mics from this company, which is still available today although it does have problems competing with more recent models. It actually has a great sound with a relatively low noise floor, the package also includes a quite decent shock mount and the mic itself has a variable pattern, meaning it could be useful for different recording situations.
The sound and quality
The first thing that will strike you about this entry-level microphone is its flat frequency response, which is normally seen only on expensive equipment. This mic also uses a large diaphragm capsule, and this certainly contributes to a lower signal to noise ratios. It still sounds precise and natural and sometimes you won't even tell it's a record when someone hits 'replay'. On the other hand, the sound also has enough warmth. No more, no less, but just as much as it should. Comparing to any other budget large diaphragm mics, CAD M179 actually has a very decent quality.
There is however, one imperfection regarding the sibilance. Sibilance is an effect that mainly exaggerates the "s" and "t" sounds, and it's a thing you always want to avoid. There are number of techniques that help to reduce this effect, mainly having to do with microphone position, but often the device itself plays a significant role. In this respect, CAD M179 could be made a bit better, but it's not the end of the world. Just make sure to get some nice pop filter along with this mic, and if needed, consider using a de-esser.
Functionality, design & build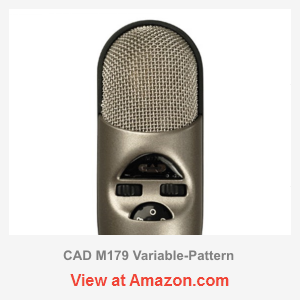 CAD M179 has three switches. First switch is a standard -20 dB control, second serves as a high-pass filter that can help to eliminate unwanted proximity effect, and third is the pattern switch, which is the most interesting. The pattern switch is continuously variable, meaning it can assume an unlimited number of position. To avoid confusion the switch has five marks, allowing the quick selection from most common patterns. This is a nice feature, and you'll be using it often.
Overall design is quite good. The body and switches are sturdy enough to withstand some abuse. Having said that, it also comes in a surprisingly big packaging; some may see this as a minus, but for me it's totally fine as long as it gives a good amount of protection. What's even more surprising is to see an included shock-mount that doesn't suck. This is a rare occurrence. A good shock mount can cost as much as fifty dollars, and if they give an option of saving, it is always highly appreciable.
Who should use it?
Thanks to its balanced freq. response, variable pattern and great overall sound; this mic will be good for recording almost anything including vocal, instruments or even percussions… If you badly need a variable pattern condenser and you are limited by budget, you may as well consider this mic. Do not be confused by the looks of this device – CAD M179 is still a solid device! The sound is somewhat close to more expensive, high-end microphones on the market but there is a feasible difference in accuracy in high end. I don't think this mic will leave you disappointed though I would advise to check first what competitors have to offer.
Pros

Good overall sound
Decent frequency response
Relatively low noise floor
Versatile variable pattern
Includes a decent shock mount

Cons

Sensitive to sibilance
A bit overpriced
Plastic body