Audio-Technica 899 is a high-end lavalier with a standard XLR output, featuring a very low profile and an exceptional sound quality. It is somewhat expensive but it in no way overpriced, as it brings the best experience you can ever get with a lavalier. This mic can be used for pretty much anything: video making, broadcasting, theater play, church service, etc., especially when you don't want it drawing unrequired attention. The package also includes a robust amount of mounting accessories, such as a clothing clip, viper clip and even a magnet clip, not to mention extra windscreens and grilles.
Sound & quality
Despite having a low profile (only 5 mm in diameter) this mic delivers rich and natural sound that can be compared to full-size studio mics. Some people may believe that a small diaphragm has to be somehow inferior in picking up sound, mainly drawing the analogies from loudspeakers… Well, this isn't quite so, since microphones do not have to move air, the size isn't crucial. Small mics also have their advantages such as more accurate high end. The only downside is a self-noise but it also depends on the model. Too bad, the manufacturers usually do not include this metric for lavaliers. In practice though, a setup with this one produced the least amount of hiss compared to a couple of other units that we've had on hand.
That being said, it should also clear out things if we examine AT 899's polar pattern and frequency response. Larger diaphragms get more directional towards the end of the specter, and starting at around 8 kHz an omnidirectional capsule may as well behave like a cardioid. However, smaller diaphragm mics, such as Audio-Technica 899 can still pick up higher frequencies from just about any angle and this is exactly what we see about its polar pattern. In reality, this is never a deal breaker but still an advantage that may give your voice a bit more presence along with a sparkling clarity. Another thing to conclude is that you can mount it at any possible angle without losing quality.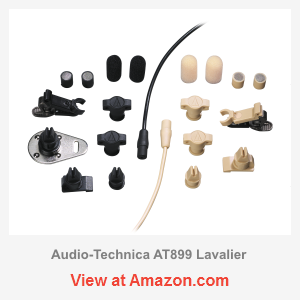 Looking at the frequency response, we get a good straight line that fully covers a typical vocal range. This means it provides an uncolored, natural sound but also serves as another sign of quality. Like many condensers, it gives a slight boost to the higher end, which once again results in an added presence. This frequency precision makes it a perfect tool for recording both speech and signing, also suitable for the instruments. Depending on the individual voice as well as your whole setup, you may still need to add a little EQ, but it's much easier to tune a clean and uncolored voice than fixing an unbalanced sound from an inferior quality microphone.
Features
Audio-Technica 899 has a switch for low frequency roll-off that allows fading from around 80 Hz and below. I always have it on as it helps to filter out some rumbling or pounding noises from the environment that include aircon, vehicles, etc. Human voice hardly gets anywhere below, unless you sound like Don LaFontaine or Barry White. However, both modes perform well. Having an omnidirectional capsule, it's not much sensitive to handling noise, wind and popping sounds that are common with cardioid lavs.
The mic's package also includes a battery pack, so even if you don't have a phantom power supply it will still work. The power module is quite slim and compact, and powered by a single AA battery so it's easy to find a replacement. As it has its own battery, you don't have to worry about phantom power and can virtually connect it to any device, be it camera, laptop or even smartphone. All you'll need is a simple XLR adaptor, which can be bought for around $10 or less.
Build and design
The build quality is truly amazing. This time Audio Technica not only produced a great sounding device, but also took care of every single accessory. The mic itself, the cable and the battery pack all feel solid and sturdy – the same applies for the mounting tools. The mic can sit tightly on kind of clothing without anything detaching or going loose. Both windscreens and grilles are detachable, so it allows for some customization. However, I would advise to keep the grilles on since they protect the capsule and serve as pop shield at the same time. The stock windscreens are good enough to accommodate for any windy day, so miking outdoors won't be a problem.
One thing I didn't like about the mic is an excessively long cable, which is almost 10 feet long. Using a digital recorder, I had to coil it a number of times and that gotten a bit bulky in my pocket. Nevertheless, I believe it's a very minor issue and an excess is still better than deficit. The last thing to note about AT 899 is it comes in two color themes – black and beige. I've been personally using the black version, which is hardly noticeable for tuxedos, jackets, etc. and I believe it would be the model of choice in 90% of scenarios. However, if you run a theater or a TV shows with a dozen of actors, it would be wise to get some beige variations as well.
Pros

Top-notch sound
Minimum noise
Sturdy overall build
A lot of accessories
Well thought mounting
Includes battery pack

Cons