Samson Meteorite is a cheap USB mic with a small footprint, compatible with Mac and PC. It also works for IPad when combined with a Lightning USB adaptor, which is not included by the way. However, an obscenely short and flimsy cable creates limitations, so it's hard to justify using it for anything other than a MacBook or a laptop. Samson says the mic's pickup pattern is cardioid but that's a lie. Meteorite has a wide sub-cardioid and so it picks up a ton of background noise from the room, not to mention the mechanical vibrations. Other than that, the sound quality is actually quite decent, considering the price.
Sound quality
Samson Meteorite has a relatively bright and crispy sound. Some other mics in this price range may sound muffled, as if they were wrapped in a blanket… but the Meteorite isn't one of them. There is a downside to this: sometimes it gets a bit chirpy or sibilant though you get the clarity. On the other hand, it is not nearly as good as Blue Yeti, because the latter manages to produce just about the same amount of clarity without actually adding much harshness. The midrange is more on the neutral side and for the most part it's uncolored. The mic does produce an intelligible voice, yet the low end is missing badly.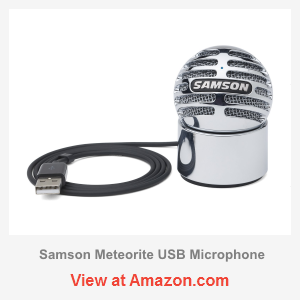 Sometimes when using the mic, you may get the impression as if you are too far away, because it sounds rather thin. At close range, it definitely gets better, but still it doesn't sound particularly rich. The good thing is that it never gets boomy, because the proximity effect is also relatively weak. Meteorite can be used for videoconferencing (Skype), creating non-commercial videos or Vlogs (YouTube) and even gaming; however, I wouldn't recommend it for musicians. With its almost non-existent low end, it is just not musical and I don't see how this can be fixed other than by getting a different mic.
What I find annoying about this microphone is that it picks up everything – inside the room and from the street… for a USB mic, it's too hot! Although the manufacturer claims the mic has a cardioid pattern, this statement is misleading, because a cardioid would only pick up the sounds in front of the mic. Meteorite picks up the sound from pretty much any direction and even from behind although to a slightly lesser degree. Aside from the wide pickup pattern, it also seems to suffer from a close proximity to the table. Finally, the mic is sensitive to some of the mechanical vibrations coming through the stand.
If you are speaking at a close range at a moderate volume, you won't actually hear the background. But as you get a bit further away from it, the background noise starts to creep in. And if you aren't speaking, then all you will hear is lots of background. Maintaining the close range could be a fix, but getting close is not easy. The stand is just too low and you would have to lower your head all the way down to the table. This is a very awkward position, especially if you are trying to record a video… One great thing about this mic: it doesn't clip from loud sounds and can handle a good amount of sound pressure!
Build quality
The build quality is about average. Samson Meteorite may look cool, but it probably won't last you for years. One of the reasons is a flimsy, non-detachable cable. As soon as it breaks, you will have to throw it away altogether. And considering the length of the cable, which is only 2 feet… I don't really know how to react to this. Should I take it as a joke? Because I need at least 6 feet of reach to plug it into my computer. Maybe, the users of mobile devices would not mind. But I think they could easily come up with a different solution to satisfy both sides, or at least offer a detachable cable with a quality plug.
Pros

Cheap
Crispy sound
No clipping

Cons

The wire…
Lots of background noise
Very thin low end
A bit sibilant