Rode NT-USB is one of the best USB mics that beats anything in the under $200 range. It brings exceptional for USB quality without the need for special drivers or any additional 3rd party equipment. Neither is it overly expensive as it offers a solid and durable build, not skimping on quality components. The design is well thought out and provides for a handy headphone monitor and a pair of solid controls. It also comes with a well-fitted pop shield and a decent mount, for no additional cost! While there are cheaper mics for sure, Rode NT-USB, in the long run, will prove to be an infinitely better investment.
Sound & quality
Rode NT-USB delivers quite a superb sound, thanks to a quality cardioid capsule set in a standard studio fashion, only except the mic provides USB interface. It sounds very natural, clear and transparent, and does not suffer from those common effects such as popping and sibilance. The proximity effect is negligible, and it works from a number of angles – so forget about 'rain dancing' with positioning. One thing we've noticed is that Rode NT-USB is also less susceptible to vibration noise, even with the stock tripod. For best results, you may consider getting an additional suspension kit and shock mount, but I'll repeat those are highly optional since that tripod thing works far better than expected.
The capsule has an extended frequency response that works well above 10 kHz so it's very crispy. Moreover, the frontal side is sensitive enough to capture sounds even at the threshold of hearing. A softest whisper comes out very clean, but so does the loud singing! Beautiful dynamic range… Perfect for any vocals, and really gives a professional sound to your recordings. And, because it has a balanced response, it just works well out of the box without needing any post-EQ. Will the quality blow you away? Absolutely, especially for such a price – this mic is like godsent!
Design and features
The mic has a thoughtful design and it appears that Rode has learned a lot from the mistakes of its competitors. For example, a famous Blue Yeti – one of the first USB mics of this class, produced more than 15 years ago and still available today, sounded good for an average consumer who cared more about skype, video games and could have occasionally done some voiceover or podcasting work without really looking into and comparing it to something more advanced. However, the Yeti utilized some rather cheap internal components, which also applied to capsules themselves.
Rode NT-USB vs Blue Yeti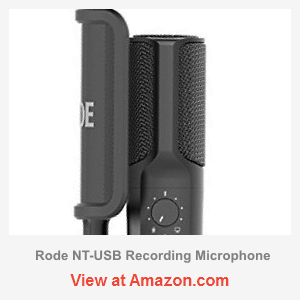 Blue Yeti actually had 3 capsules on board, which posed to bring some magical multifunctionality, namely as of various picking patterns. However, for me that experiment looks more like a failure. Needless to say that if a mic used 3 capsules, that would either mean a significant cost increase or use of cheaper components with inferior performance. Among those various picking patterns, I would unlikely use anything other than cardioid, because omni picks up way too much environment noise and would only be good in sterile studio environment. However, any decent studio is very likely to be equipped with Neumanns, and it would be very funny if someone brought there Blue Yeti.
The stereo mode is a funny feature of course but those noisy capsules make it of little use in any professional application such as album recording etc. Perhaps it could have some potential use for podcasting but I would stick with some decent quality conventional, mono capsule any time. Nonetheless, those far from perfect capsules aren't the end of a story. Flimsy control buttons on Blue Yeti have caused a lot of replacements. The stand, although solid passed too many vibrations… and the mic's non-standard size also made it unusable with most of common shock mounts available.
NT-USB Features
Now, Rode NT-USB has none of those problems. For a roughly same price, it offers a significantly better capsule, solid controls and standard thread with a decent tripod stand that is firm yet allows fewer vibrations. Moreover, you get that nice addition of a pop-shield, fitted specifically for the mic.
Rode NT-USB includes all the necessary features for a painless recording. It does not require any special drivers and works well as a plug and play device. It has two controls on the right side that are meant for monitor volume and the mic's gain. Underneath, there is a standard 3.5 mm jack for headphones. The monitor is quite loud especially on the highest setting, so you'll have no problem hearing yourself during the recording. Unlike a number of other USB mics, this one is also quite low on self-noise so you won't hear that common yet annoying hiss as you hit replay.
Overall
Overall, this mic simply rocks… it is relatively cheap but it beats the crap out of the competitors' models any time. Rode NT-USB is unarguably the best microphone of choice for today. Once you'll have it side by side with other computer mic, you will realize this. A model with no disadvantages, easy to use and most importantly, high quality sound… it's impossible not to grab.
Enough said.
Pros

Excellent sound quality
Extended response, crispiness
Low noise
Thoughtful design
Free pop-shield, decent stand

Cons

The boom bracket is made of plastic, it is a known weak point.
WARNING! MAKE SURE YOUR AMAZON SELLER IS AUTHORIZED: https://rode.com/en/support/where-to-buy
Review score
Fantastic! -

9.5/10