RØDE NTG2 is an entry-level 11" short-range shotgun that boasts an accurate sound while providing superb amount of rejection. The model is quite lightweight though it still offers a solid look and feel, and just as you would expect from RØDE, it is a high-quality piece of equipment. NTG2 is actually one of the most popular models today due to its remarkable overall quality and affordable price. Also, by far it has the narrowest pickup pattern among short shotguns and hence also offers an extended working range.
Most short shotguns will usually give you more obtrusive ambience with distance due to a wider pickup pattern. All shotguns heavily rely on the booming technique that implies getting up close. However, when this option is not available you could feasibly benefit from the superior rejection of NTG2. For even better results, it can be paired with some modern digital recorders such as Zoom H4N that keep track of the ambience, which is another good measure for reducing the unwanted environment noise.
Sound & quality
For an entry-level mic, RØDE NTG2 has a very smooth, almost ideal frequency pattern. This means that sound is represented with accuracy and minimum coloration. It sounds relatively rich and it's sensitive enough to capture every slightest detail in its range. The quality of this mic would be more than enough for budget filming, although certain situations may require using more tools than just one mic and demand a bit of skill too.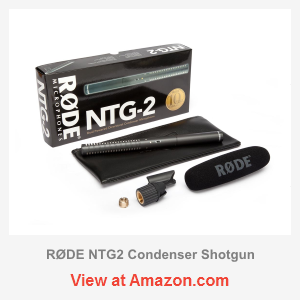 NTG2 doesn't have any problems with different environments and the option for roll off also helps reducing low frequency noises. However, I would personally wish the roll off to be a little bit more aggressive.
Maximum SPL of this mic is quite high – 131 dB @ 1% THD, which makes it applicable for some very loud or noisy environments where you would need to shout in order to be heard. On a side note, you may also need to add bit of gain to your recordings because NTG2 appears to be "soft voiced" though apparently it has no impact on quality. The noise figures are pretty much average (18 dB-A weighted self-noise) but for mics in this price range it's totally fine.
RØDE also did a great job in reducing popping and sibilance sounds in this model. While many even expensive shotguns still suffer from those problems, NTG2 keeps those nuisances down to minimum.
Build and setup
This mic has a pleasant design and it is in addition durable. RØDE offers a 10-year warranty on NTG2, which is nice especially for an entry model. At least, before you can get your hands on higher-end equipment, you will have more than enough time to practice with this nonetheless awesome device. On the other hand, you may find it lacking some of the essential features that could make its use more convenient.
First of all, you may have a difficulty accessing a roll off switch. For some reason it is buried below the surface, so to switch it would require using a jeweler's screwdriver or something of a sort. Consider this a minor thing. Second part is a bit more annoying: the mic does not have an on/off switch. This is fine if you are using phantom power, but if on battery and you want to conserve– you will have to unscrew and unplug it after every session.
Another annoyance is the windscreen that comes with the package. It does not do what is supposed to do, because a slightest breeze simply gets through as if it hasn't been on. Maybe it does reduce the blowing noise just a bit, but it will still ruin your recordings if you do not procure anything better. Fortunately, RØDE does produce some very decent windscreens such as WS6 but that adds for the cost. A shock mount could be a good inclusion as well but you will have to buy it separately.
Overall
Despite a number of nuisances, RØDE NTG2 is still an awesome mic with a very accurate, rich and natural sound! For an entry-level device, it makes the job done rather well and can be a great tool for any videographer, especially in the hands of knowing. Besides, it is now cheaper than ever so it is a good time to grab it. However, if you are willing to spend more you should consider getting the new NTG4 PLUS instead.
Pros

Great accuracy
Pretty natural sound
Narrower pickup pattern
Excellent quality for the price
Lightweight and durable

Cons

Terrible windshield
Lack of on/off switch
WARNING! MAKE SURE YOUR AMAZON SELLER IS AUTHORIZED: https://rode.com/en/support/where-to-buy