Sennheiser e945 is a great example of a great vocal mic. Made of quality, it produces an extraordinary for dynamics clear 'n natural sound with a pleasant bit of warmth while easily cutting through the mix. This mic is not 'picky' about your technique, be it clean or grungy voice (or even something more extreme?). Gain before feedback is also quite very good – way better than most of the available mics on the market and if placed correctly it can handle loudest stages without problems. As a supercardioid it favors the side placement of loudspeakers where the talent is in the middle and slightly aback.
Sound & quality
The sound of e945 is nothing short of awesome. Comparing to the mainstream models like Shure SM58, this mic has a lot more clarity and detail. On the other hand, the Shure's workhorse sounds muddy and congested. Moreover, Sennheiser e945 has less coloration and can sound great without relying much on EQ. Highs and lows both sound crystal clear. If you were considering an upgrade from SM58, then this mic would be the best candidate as it easily beats it in every aspect. Gain before feedback, noise reduction, detail and clarity, frequency response, etc.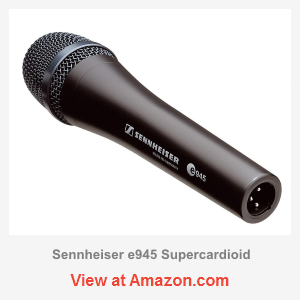 As a supercardioid mic, e945 also offers very decent rejection, which is nowadays vital for many stages. The so common proximity effect is well addressed and compensated, nevertheless the outcome will largely depend on the timbre of your voice. To my findings, this mic will work miracles for female and tenor voices. It makes them sound fuller but also much easier to cut through – no struggles! Baritone singers will have a good body, clean and powerful sound that too goes pretty natural and undistorted. However, for bass singers with a deep voice proximity will start kicking in, making them sound sort of exaggerated.
If you do have that deep voice and are worried about getting boomy, then you may consider getting e935 instead. The difference between the two is that e935 is cardioid and e945 is supercardioid. As a cardioid, e935 offers a less pronounced proximity effect and hence may sound slightly more natural, whereas e945 will give you a better gain before feedback and superior sound rejection. To put it simply, for very loud and aggressive stages e945 will claim an advantage as being more reliable and less likely to trigger a feedback (unless pointed directly to speakers). Sennheiser e945 is also preferable for back vocals as it produces less bleed.
Build
The build of e945 delivers a gorgeous look along with a renowned German quality. Sennheiser offers a 10-year warranty for this model and it shouldn't be taken lightly. Not only does this mic withstand an inhuman amount of abuse, it also delivers stability regardless of climate or environment. E945 uses a humbucking coil, which works similar to a guitar humbucker. This makes a great deal in reducing humming noise. On the other hand, proprietary shock-mounted capsule makes it a fair bit less sensitive to shock and handling noise. Considering it will work for 10 years, this will be a very good investment!
Pros

Clear, professional sound
Decent gain before feedback
Very good overall noise reduction
Made in Germany, 10-years warranty
Great price for the quality

Cons

May not work that well for bass voice
Review score
Excellent! -

9.2/10