AKG D5 is a cheap but rugged supercardioid mic. It offers similar but slightly superior sound to Shure SM58. Tighter pick up pattern also gives it more flexibility to deal with gain before feedback. This mic can thus be considered as a more viable, cheaper alternative. However, it does suffer from the same disadvantage, which is the lack of detail. When comparing to more advanced handhelds, D5 may kind of sound inarticulate but as a budget piece of equipment it actually performs pretty well.
Sound & quality
This mic has a promising frequency response that offers same amount of brightness as SM58 but without any abrupt bumps in high end. The low end is more stable as well – there is no mud and yet it gives a pleasant amount of richness. The high end is somewhat gentle but it has more clarity than Shure, and of course, it cuts through better. On the other hand, I find that transient response has a room for improvement. It just sounds a little blurry, and although those with shrill or harsh voices could potentially benefit from this, in normal circumstances it could be robbing you of some detail…
Gain before feedback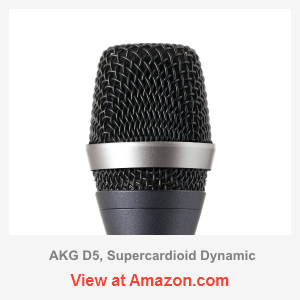 D5 relies on AKG's patented laminated diaphragm that is claimed to be less resonant and therefore more resistant to feedback. This appears to be true when comparing to SM58… and it's quite decent, but slightly inferior to some Sennheisers. Provided it is supercardioid, D5 is also less likely to trigger feedback off axis, i.e. when not pointed to monitors. However, like all supercardioids it can trigger feedbacks if the monitors are placed in the middle rather than to the sides, because the rear end of the mic becomes receptive. If you are planning an upgrade from SM58 (cardioid) then please be mindful of those differences.
Features, build, durability
AKG D5 is equipped with an integrated pop filter that does a good job in reducing pops and blowing or wind noise. In terms of handling noise, it does not stand to the claims and it's noticeably worse than Shure. Nevertheless, I believe it has more to do with its supercardioid pattern that naturally makes it more receptive – rather than a flawed design.
The microphone design is simple but very durable. It has a die-cast metal body and the mesh grilles are made of spring steel. This implies that even if you smash the grilles nothing will happen, as they will just spring back to normal. It's also unlikely to develop scratches, unless it meets concrete or other coarse materials, so it's one less thing to worry about.
Three reasons to buy
Anyone who needs an affordable, decent sounding mic can look into D5. Although SM58 is more common, it actually takes a good sense and lots of time to fiddle with EQ, whereas this mic performs much better out of the box.
Amateur singers don't necessarily need mics that provide lots of detail. On contrary, they may even benefit from the extra smoothing that D5 provides. Especially those with imperfect technique and harsh or shrilling voices.
In addition to the above, this is also the mic you can pass to anyone without any back thought because it's cheap and durable. If you've ever worked with drunkards who occasionally tend to drop mics, you will understand.
Pros

Good bang for the buck
Balanced frequency response
Decent overall sound
Above par gain before feedback
Easily cuts through the mix
Very durable, rugged design

Cons
Review score
Very good! -

8.2/10